Discover Author Personalities

Alibris has teamed up with NextUser, powered by IBM Watson, to give our users a unique look at the personality traits for some of their favorite authors. By using IBM Watson's cognitive computing technology (as seen on Jeopardy), and the NextUser marketing platform, we are able to analyze these authors more deeply than ever before. You'll get a sense of their writing style, as well as a deeper look at their "Big Five" personality characteristics, which represent the most widely used model in describing how a person engages with the world.
Search for your favorite author and through the power of IBM Watson we will tell you more about their writing styles and scores for their big five personality characteristics, which represent the most widely used model for generally describing how a person engages with the world. We'll also reveal what other authors are most similar in style. Who knows, you may discover a new favorite!
Understanding the Science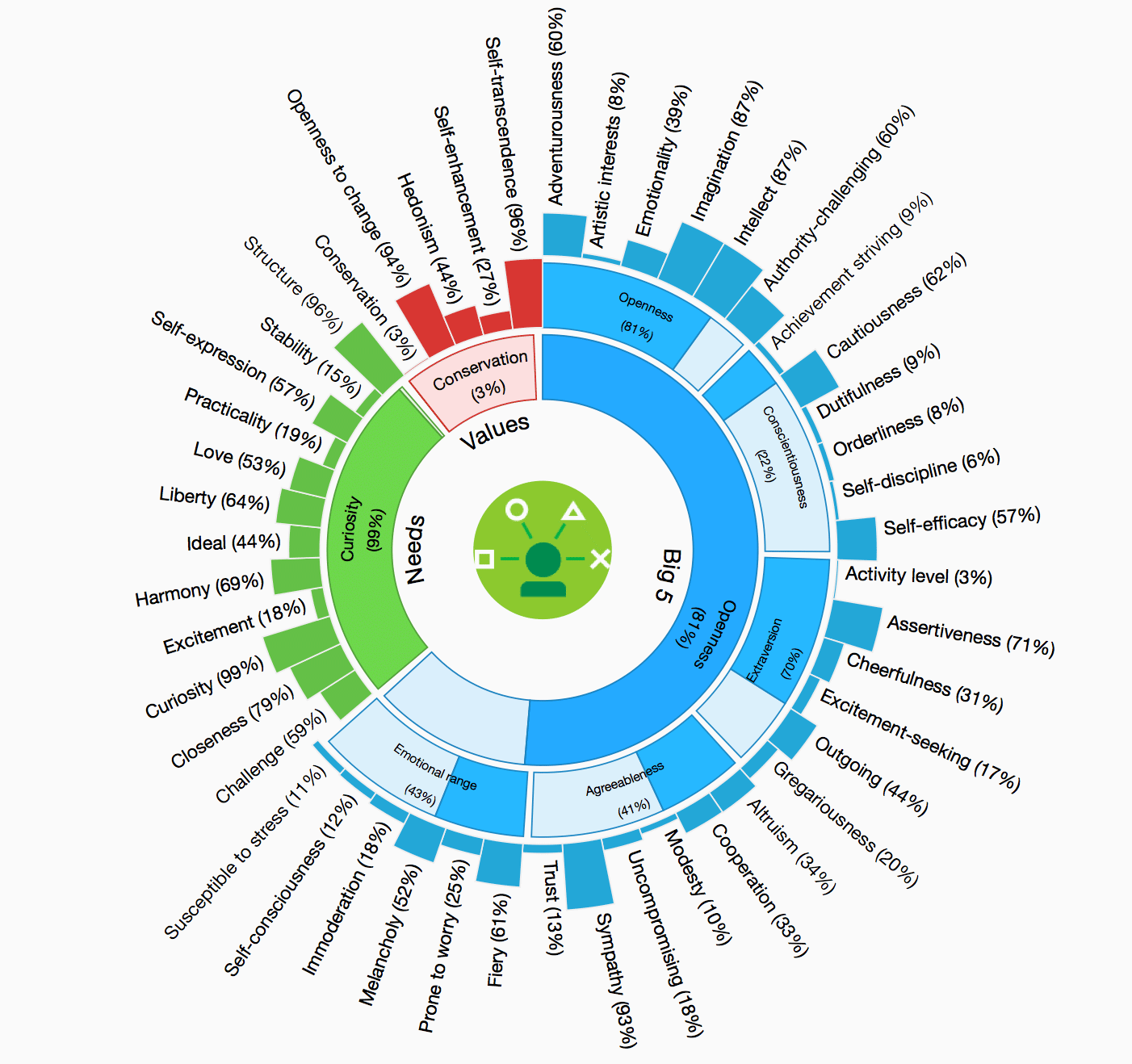 Mark Twain's Personality Scores
To create these author personality profiles NextUser sourced a collection of personal writings, including a collection of quotes, from hundreds of popular authors which were then fed in to IBM Watson. IBM Watson, through the power of cognitive computing, then analyzed these writings to provide a range of scores. These scores are based on 47 unique traits that measure the personality characteristics, values, needs of each author. Every trait is scored on a percentile compared to the average user base in our study. For example, an author may receive a 78% adventurousness score, meaning that this author is more adventurous than 78% of users in our study. To the right you can see how Mark Twain's scores compared to the average user base in our study The personality insights derived from IBM Watson are based on years of academic research in psychology. The following is a brief description of the three kinds of personality insights that are provided by IBM Watson.
Personality Characteristics (The Big Five)
IBM Watson can build a portrait of an individual's personality characteristics and how they engage with the world across five primary dimensions: Openness, Conscientiousness, Extroversion, Agreeableness, and Neuroticism (also known as Emotional Range).
Needs
IBM Watson also infers certain aspects of a product that will resonate with an individual across twelve needs: Excitement, Harmony, Curiosity, Ideal, Closeness, Self-expression, Liberty, Love, Practicality, Stability, Challenge, and Structure.
Values
Last, but not least, IBM Watson can identify values that describe motivating factors, which influence a person's decision-making across five dimensions: Self-transcendence (helping others), Conservation (tradition), Hedonism (taking pleasure in life), Self-enhancement (achieving success), and Open to change (excitement).
Who is NextUser?

NextUser's open platform empowers customers like Alibris to deliver completely personalized, multichannel user experiences. With it, users receive the right message in the right place at the right time which increases engagement, conversion and lifetime value. NextUser's solution harmonizes marketing across all digital channels, so that communications can be effectively coordinated across all touch points - websites, emails, ads, social media and mobile - to resonate with audiences .
Learn more about NextUser
Learn more about IBM Watson