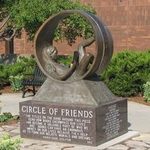 Eau Claire Friendly Reader
Our collection includes thousands of fiction and nonfiction ex-library books, audiobooks on CD, and movie/TV DVDs. You will also find many high-quality items donated by local community members among the books and media that we offer for sale.
Friendly Reader is the online book sale group of the Friends of the L.E. Phillips Memorial Public Library in Eau Claire, Wisconsin, USA. We are a staff of dedicated, book-loving volunteers. We sell ex-library books and media, as well as donations from the community. Your purchase from our online store helps our library provide additional equipment, programs, and services. Thank you for your support!
E-mail Eau Claire Friendly Reader
Overall Seller Rating:
Alibris UK seller since March 2016
---
Search for books from Eau Claire Friendly Reader Advanced Search
Search 1,278 books, 260 movies, and 25 music items from this seller
Spotlight book from Eau Claire Friendly Reader
$331.98
Very good in very good dust jacket. Ex-library with the usual markings, stickers, and stamps. CDs and library cases in very good to excellent condition. Includes original box set of 250 plays on CD celebrating 25 years of the finest recorded audio theatre in America: 250 plays, spanning 25 years of recorded drama; 500 audio CDs with over 450 hours of full-cast performances; 25 volumes, available exclusively as a collected box set. In addition, there are volumes 26-29 (2013-2016) that includes ...
Featured books from Eau Claire Friendly Reader
Michael Hampe
$11.99
Vito Gobbi, Oslavio di Credico, Carlos Feller. Run time: 98 mins.. Aspect ratio: 1.33: 1. Like new. Sung in Italian, with optional subtitles in Italian, English, German, French and Spanish. Originally produced for television in 1991. Program notes in English, German and French Recorded in performance May 7-9, 1989, Rokoktheater Schwetzingen.
Michael Hampe, Claus Viller
$11.99
Claus Viller; Gioachino Rossini; Michael Hampe; Gianluigi Gelmetti; Stuart Kale; et al. Run time: 94 mins.. Aspect ratio: 1.33: 1. Like new. Rossini's tug of love opera 'L'Occasione Fa Il Ladro', set in Naples, is performed by the Stuttgart Radio Symphony Orchestra, conducted by Gianluigi Gelmetti. Susan Patterson and Robert Gambill head the cast.
---
New Testament (Great Courses #656) (12 Audio CDs)

Binding: Audiobook CD Publisher: Teaching Company, Springfield, VA Date published: 2000 ISBN-13: 9781565853669 ISBN: 1565853660

Description: Fine in fine dust jacket. 12 audio discs (approximately 720 min. ) in two containers including a course guidebook. Provides a historical context to foster a fuller understanding of contemporary events and people in the New Testament. Discuses distinguishing characteristics between the Greco-Roman cults and Judaism and Christianity, Jesus as a historical figure, and each of the twenty-seven books of the New Testament. pt. 1: lecture 1. The early Christians and their literature--lecture 2. The ... Read More

Practicing Mindfulness: an Introduction to Meditation (Great Courses #1933) (4 DVDs, 1 guidebook)

Format: DVD Studio: Teaching Company Date: 2011

Description: Lecturer: Professor Mark W. Muesse, Rhodes College. Run time: 720 mins. ISBN 1598037927. Very good condition, but ex-library with usual markings and stickers. Four discs. Language: English. Course guidebook includes lecture notes, glossary, biographical notes, and bibliography (p. 190-196). Meditation-the technique of mental focusing for enhanced awareness and self-mastery-offers deep and lasting benefits for mental functioning and emotional health, as well as for physical health and well ... Read More

Yoga for a Healthy Mind and Body (Great Courses #9263) (2 DVDs)

Format: DVD Studio: The Teaching Compay Date: 2014

Description: Heidi Wenk Sormaz. Run time: 360 minutes. ISBN 1629970794. Two discs. Language: English. Like new. No course book. Introduces the ancient tradition of yoga and how it has evolved to become the North American phenomenon that it is. The first half of the course provides a brief history of what we know as yoga in the West and the science behind how modern yoga can create a healthy body and mind. The second half of the course is primarily experiential, introducing popular modern styles of yoga. Read More

The Iliad of Homer (Great Courses #301) DVD

Format: DVD Studio: The Teaching Company Date: 2003

Description: Elizabeth Vandiver. Run time: 360 minutes. ISBN 1565857399. Two discs. Language: English. Like new. 12 lectures, 30 minutes each. Includes guidebook. Introduces the great epic of ancient Greeks, the Iliad. She addresses critical and interpretative issues, and gives background information on cultural assumptions. Read More

The Long 19th Century: European History from 1789 to 1917 (Great Courses #8190) CD Set

Binding: Audiobook CD Publisher: The Teaching Company, Chantilly, VA Date published: 2005 ISBN-13: 9781565859951 ISBN: 1565859952

Description: Good in good dust jacket. Ex-library. Ex-library with the usual stamps, markings, and stickers. 3 volume set. 18 Audio CDs with three course booklets in 3 cases. Europe's 19th century is often broadly defined as the period from the French Revolution to World War I, forming the foundation of the modern world. The course moves from the impact of both the French and Industrial Revolutions in the period from 1789-1848, into the so-called "unifications" of Italy and Germany in the 1850s and 1860s, ... Read More

The Great Tours: Greece and Turkey, from Athens to Istanbul (Great Courses #3231)

Format: DVD Studio: The Teaching Company Date: 2011

Description: John R. Hale, Lecturer. Run time: 720 minutes. 1598037730 Four discs. Language: English. Like new. 24 lectures (30 min. each). Course guidebook includes professor biography, scope, maps and bibliography. Through Professor Hale's vibrant commentary and extensive field footage, you discover monumental ancient cities, classical ruins, temples, shrines, fortresses, stadiums, theaters, churches, and palaces. In each site, you explore the critical history and culture that defined them and the ways ... Read More

Ancient Empires before Alexander, Parts 1-3 (Great Courses #3150) DVD

Format: DVD Studio: The Teaching Company Date: 2009

Description: Professor Robert L. Dise, Jr., University of Northern Iowa. Run time: 1, 080 Minutes. ISBN 1598035576 Six discs. Language: English. 36 lectures; 30 minutes per lecture; on 6 videodiscs in 3 containers; with an accompanying course guidebook which includes professor biography, course scope, lecture guides, timeline, glossary, biographical notes and bibliography. Complete your knowledge of the ancient world with this comprehensive look at the dozen empires that flourished in the 2, 000 years ... Read More

Mysteries of Modern Physics: Time (Great Courses #1257) DVD

Format: DVD Studio: The Teaching Company Date: 2012

Description: javascript: history. go(-1)Lecturer: Sean Carroll, California Institute of Technology. Run time: 720 mins. 4 discs. Language: English. 24 lectures lasting 30 minutes each. Read More

The Everyday Guide to Spirits and Cocktails: Tastes and Traditions (Great Courses #9144) DVD

Publisher: The Teaching Company Date published: 2011

Description: Very good in very good dust jacket. Ex-library. Cover of book has been laminated. Library bar code is on the top of the front cover. The library call number is on the tail of the spine. Inside the front cover is a book plate designating the book as a... Audiobook DVD includes Course Guidebook and 2 DVDs. "The Great Courses, Course No. 9144" "Course Guidebook and 2 DVDs" The DVDs have a sticker with the name of the library and an inventory number. The DVD case has the same information in the ... Read More
---