Posted 02 November 2019
Alibris and Amazon allow a vacation setting so no orders acccepted when we are absent. Unfortunatly this removes the inventory from view. Please try again in a few days! TW
---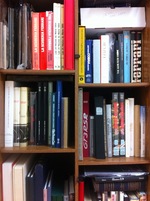 T E Warth Esq Automotive Books
I now specialize in the rarest volumes in the automotive. racing, motorcycle and related areas. Not only very early titles are in my inventory but recent subject specific books printed in limited quantities, now out-of-print and in demand. If you are looking for such an item contact me as I may be able to help.
I have been selling(and publishing) car books to enthusiasts since 1965(over 55 years). I started selling out of my house in South Minneapolis as English Imports, then as Classic Motorbooks. As we started publishing we became Motorbooks International and after selling this business three of us started Iconografix. And ever since 1988 I have been selling out-of-print titles as T E Warth Esq Automotive Books. In 2017 I dramatically downsized and am now offering only some 400 very rare titles out of an office near my home. I am now back to my roots, packing your order myself and carrying it round the corner to the post office just as I did in Minneapolis back in 1965! I am also buying the rarest books. EMail me for my Want List
E-mail T E Warth Esq Automotive Books
Overall Seller Rating:
Alibris UK seller since April 2001
---
Search for books from T E Warth Esq Automotive Books Advanced Search
Search 454 books from this seller
Spotlight book from T E Warth Esq Automotive Books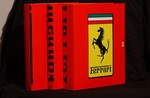 $457.00
Ferrari Opera Omnia 1946-1995 is a mammoth (20 pounds, 10"-wide x 11-1/2"-tall x 6"-deep) 4-volume hardcover set of books detailing the history and cars of Ferrari. It contains numerous color and black & white photographs and illustrations along with text in Italian, English, and French. Also known as a Catalogue Raisonne , this is Edited by Bruno Alfieri and published by Automobilia of Italy. It can deservedly be called the "holy grail" of Ferrari reference literature.
Featured books from T E Warth Esq Automotive Books
by
Bido, V
$322.00
Good in very good dust jacket. 112 p. IN STOCK IN MINNESOTA
$952.00
New. 2 volume set. Product in slip-case. Ultimate, 2. Audience: General/trade. NOTE WELL, WE ARE OFFERING THE TWO VOLUME SET IN A SLIP CASE. The publisher used different ISBNs for the two books making unique identification of the set difficult! Volume 1 ISBN is 9781907085901. IN STOCK IN MINNESOTA
---
La Hispano-Suiza Vientos de Guerra 1931-1946

Edition: First edition Binding: Hardcover Publisher: Polo Date published: 2015 ISBN-13: 9788460834243 ISBN: 8460834247

Description: Very good in very good dust jacket. 516 p. Volume three of a three volume series. As a bonus we supply an original 1950s copy of the British racing weekly Autosport with this order. IN STOCK IN MINNESOTA. Read More

The Bentley Centenary Opus Crewe Edition

Edition: First edition Binding: Hardcover Publisher: Opus Media Date published: 2019 ISBN-13: 9781999756178 ISBN: 1999756177

Description: New. 400 p. Slipcased The Bentley Centenary Opus is the ultimate tribute to the iconic cars and extraordinary people who built them. This Opus has been created with the Bentley aficionado in mind. Breathing new life into old, rare and private archived photographs through expert restoration and reproduction also through newly commissioned photoshoots. The Opus contains exclusive interviews with collectors and craftsmen from all generations and this brings to the fore the passion for Bentley. As ... Read More

Illustrierte Automobil Revue Revue Automobile Illustree 1948 (48)

Edition: First edition Binding: Trade paperback Publisher: Hallwag AG Date published: 1948

Description: Good. 192 p. As a bonus we supply an original 1950s copy of the British racing weekly Autosport with this order. In stock in Minnesota. Read More

Tatra Passenger Cars 100 Years

Edition: First edition Binding: Hardcover Publisher: GT Club-Motormedia Date published: 1996 ISBN-13: 9788090070578 ISBN: 8090070574

Description: Fine. 440 p. This is the first(1996) printing of this book and has ISBN 8090070574. Book in 4 languages. As a bonus we supply an original 1950s copy of the British racing weekly Autosport with this order. IN STOCK IN MINNESOTA. Read More

Neil's Book The 356A Porsche Documented Details

Edition: First edition Binding: Spiralbound Publisher: Goldberg Date published: 2010 ISBN-13: 9780615395166 ISBN: 0615395163

Description: Fine in fine dust jacket. Signed by author. 140 p. In stock in Minnesota Read More

Edition: First edition Binding: Hardcover Publisher: Collectors Car World Date published: 2013

Description: New. 206 p. Of the edition of 289 copies, this #215. In stock in Minnesota Read More

Edition: First edition Binding: Hardcover Publisher: Stan Smith Date published: 2010 ISBN-13: 9780615254197 ISBN: 0615254195

Description: Fine. 120 p. Copy 194 of 200. In stock in Minnesota Read More

Jaguar XK120 in the Southern Hemisphere: Limited Edition, Numbered Copy

Edition: Limited edition of 1000 copies Binding: Hardcover Publisher: JTZ Publications, Sydney Date published: 2009 ISBN-13: 9780959107029 ISBN: 0959107029

Description: New in new dust jacket. Signed by author. A History of Jaguar XK120s in Australia, New Zealand, Africa, Asia, The Middle East and South America. Copy #343. 488 pages In stock in Minnesota Read More

The Essence: Aston Martin from DB2 to DB6

Edition: First edition Binding: Hardcover Publisher: Etienne Dricot Date published: 2019 ISBN-13: 9789995904555 ISBN: 9995904551

Description: New. 500 p. This stunning book with a foreward by Kingsley Riding-Felce (former Managing Director of AM Works) should be a feature on the bookshelf or coffee table of any committed classic Aston Martin nut. Painstakingly compiled over a 10 year period, this beautiful book, which is two volumes (Vol. I: DB2 to DB MKIII / Vol. II: DB4 to DB6) features 1.400 exclusive pictures of 135 different cars, from what was one of the golden periods of Aston Martin production. All versions left hand drive, ... Read More
---